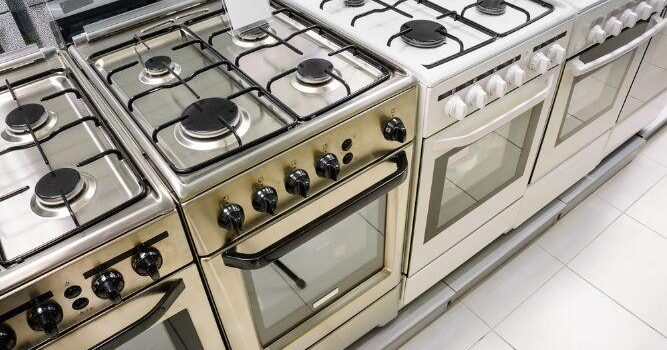 Are you somebody that prides themselves on their cooking capabilities? Whether you're hosting a family dinner or trying your hand at multiple dishes, you're going to need one of the best electric ranges on the market. An electric range assists with quality cooking performance. It can bake cakes evenly without the risk of burning them as well as cooking meat to perfection.
Modern electric ranges come equipped with an abundance of advanced features. You can find an electric range with more powerful convection ovens, air fryers, self-cleaning capabilities, and even Wi-Fi connectivity. The options are endless, and there are a lot of factors to consider. That's why it can be tricky to decide which electric range will be best for you.
Below, we've broken down the basics regarding electric ranges so you can better understand what your future cooking investment may look like.
What To Consider When Purchasing an Electric Range
Type
There are three types of electric ranges to consider when shopping:
Freestanding Range: Freestanding ranges are the most used ranges in the industry. They're easy to install and designed to fit nicely between countertops. This electric range offers some versatility as its stainless-steel finished sides allow it to stand alone if that makes sense for your kitchen layout. Its control panel is conveniently placed at the top of the unit, typically 13 cm/5 inches from a countertop.
Slide-In Range: Slide-in electric ranges have a sleeker design as they can fit seamlessly between counters and cabinets. This slide-in electric oven has controls located on its front instead of near the cooktop. There isn't a built-in back guard on this unit, which is why this slide-in range works well in front of a tiled backsplash.
Built-In Range: Built-in ranges have a separate oven and range function. The range is built into the countertop's surface which is separate from the oven. This feature is excellent for those who want more room to create a double oven.
Size
Electric ranges can vary in size depending on their price and design. You can expect most ranges to have a depth that matches the average countertop height, but it's the width that you need to keep an eye on. The most standard range size is about 76 cm/30 inches wide and can fit five burners, sometimes even six. The standard oven capacity of an electric range is 5.3 cubic feet, whereas a built-in range can be as small as 3 cubic feet.
Bigger families may require more cooking performance options. If you're looking for the best electric range that offers numerous burners, space for an additional cooktop, and a large oven capacity, you may want to go bigger. There are also smaller options for more compact living; they'll fit in between tighter kitchen spaces.
Cooktop
There are a couple of options to choose from when shopping for a new range oven:
Electric Coil Cooktops: The most affordable electric range ovens will have electric coil cooktops. While the look may be a little outdated, these cooktops are durable and able to manage all types of cookware.
Smooth Glass Electric Cooktops: A smooth glass electric cooktop provides a much sleeker look with its flat surface. Some units may have up to five burners and options for differently-sized pots and pans. While they're easier to clean, you have to clean them regularly. If not, you might have to face an unsightly buildup of stains that can become very difficult to remove. There's also specific cookware that you can't use with this option as it can chip or scratch the induction cooktop. When looking for the right cookware, cast iron can be used on any smooth-top/glass surface electric range or cooktop.
Ranges
There are three basic varieties when it comes to choosing the best electric ranges, such as:
Gas: Gas ranges have been on the market for a long, long time. These are considered the most traditional types of ranges, and while many cooks may prefer cooking with a live flame, they lack the upgrades and features of more advanced units. You need a gas line to operate a gas range.
Electric: Electric ranges are the modern go-to option for all types of kitchens. This unit is easy to clean and doesn't require a gas line to operate. All you need is a proper electrical outlet, and the burners heat up through a ceramic or glass top.
Induction: An induction range uses electromagnetism that heats the cookware directly. Aside from a heating element, the range top will remain cool while you're preparing your food and provides accurate temperature control.
Dual Fuel
If you can't decide between gas or electric, why not get the best of both worlds? Dual fuel combines an electric oven with a gas cooktop. While this option may be more expensive, it offers faster heat and better temperature distribution.
Additional Features
The best part about an electric range is that it comes with additional features that add to its functionality. Here are some of the most popular features that you can get with an electric range these days:
Additional Space: More space for burners and cooktops can never be bad. An electric range with additional space can save you a lot of time and versatility during the cooking process.
Double Oven: A double oven has an upper and lower oven which means that you can cook multiple dishes all at once. The only downside is that you're sacrificing a storage drawer for more oven space. A storage drawer can be useful for storing cooking sheets and pans if you're short on space; you'll have to consider which is more important to you.
Convection Oven: The convection oven option heats evenly throughout the oven with a fan. Most people use a convection oven for reheating or roasting food.
Built-In Air Fryer: Some ranges come with air fryer capabilities. Now you can have the additional option to air fry your food, adding more variety to your meals.
Self-Cleaning: The self-cleaning function is common in newer electric stoves. The self-cleaning cycles are a helpful feature for maintaining the cleanliness of your oven, lessening the risks of damaging the unit. If you do run into any issues, however, you can contact Vanier appliance repair in Ottawa.
Smart Controls: Smart ranges include oven settings that are easily controlled with a smartphone while using Wi-Fi. You can start/stop the oven, control its temperature, set a timer, and more.
While enjoying your new electric range, you'll want to ensure you keep it in pristine condition, but sometimes, issues arise. Your investment deserves the best of the best when it comes to oven repair in Ottawa. We have a skilled team that's ready to take care of all your kitchen appliance needs today!
July 28, 2022
Categories: