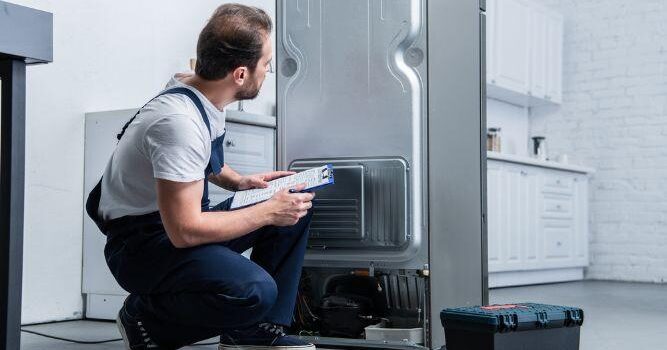 OTTAWA, Ontario: When it comes to fridge repair services in the Greater Ottawa Area, there's a lot of competition for appliance repair services.  And yet, Napoleon Appliances has achieved a 4.8 out of 5-star rating on Google.  The key to Napoleon's success? Owner Evgueni Tchernobelski believes it all comes down to two things: Excellent technicians and excellent customer service.
Napoleon Appliances is a family-owned and operated appliance repair company in the Ottawa area with more than twenty years experience in the industry. Napoleon repairs ovens, dishwashers, fridges, washing machines, and dryers. In addition, it provides appliance removal services and is committed to environmental responsibility through appliance recycling and pick-up services.  
Over the years, owner Evgueni Tchernobelski has seen many appliance repair companies come and go. He believes that his own business has lasted so long because it truly invests in both its employees and customers.
"Our goal is high-quality service and customer satisfaction," says Tchernobelski. "All of our service technicians are highly trained and qualified, plus they use the most modern equipment and tools to fix damaged home appliances."
Tchenobelski also highlights the fact that Napoleon Appliances has technicians available morning, afternoon, and evening and that their vans are stocked with the most common parts to increase the odds of same-day appliance repairs. He takes pride in the fact that his company repairs appliances of all makes and models, and he believes that customers appreciate Napoleon's versatility as well.
In today's digital world, Tchenobelski recognizes the importance of internet marketing and reviews. "Things have changed a lot since we opened our doors," he says. "But one thing that has remained constant is the benefit of excellent reviews for our business." Tchenobelski would like to thank the clients who have taken the time to post positive feedback about Napoleon.
When it comes to fridge repair services, Napoleon Appliances proves to be a reliable and customer-focused choice in the Ottawa area.
Napoleon Appliances holds a special place in the heart of the Ottawa community as a family-owned and operated appliance repair company with over two decades of experience in the industry. Our longevity and steady growth can be attributed to the value they place on investing in their employees and customers alike.
At the core of Napoleon Appliances' philosophy is a commitment to providing high-quality service and ensuring customer satisfaction in every interaction. We achieve this by employing a team of highly trained and qualified service technicians. These skilled professionals are equipped with the most modern equipment and tools, enabling them to efficiently diagnose and repair a wide range of home appliances.
Our dedication to offering top-notch service extends to the accessibility of their technicians. Napoleon Appliances has made sure to have technicians available throughout the day, from morning to evening, to cater to customers' busy schedules. Additionally, our service vans are well-stocked with the most common parts, increasing the likelihood of same-day appliance repairs and minimizing any inconvenience caused by a malfunctioning fridge, oven, dishwasher, washing machine, or dryer.
What sets Napoleon Appliances apart from its competitors is its versatility in repairs. Regardless of the make or model of the appliance, our team is equipped with the knowledge and expertise to handle any repair challenge that comes their way. This versatility resonates well with customers, who appreciate the convenience of having a reliable, one-stop-shop for all their appliance repair needs.
Beyond their excellent technical prowess, Napoleon Appliances demonstrates a deep commitment to environmental responsibility. They offer appliance recycling and pick-up services, ensuring that old or damaged appliances are disposed of properly, thus minimizing their impact on the environment.
In the digital age, online reviews and internet marketing have become essential for businesses to thrive. Evgueni Tchernobelski, the owner of Napoleon Appliances, recognizes this significance and acknowledges the positive impact that excellent reviews have had on their business over the years. Customer feedback has been a driving force behind their growth and reputation, and Tchernobelski expresses his gratitude to clients who have taken the time to share their positive experiences with Napoleon Appliances.
For residents in the Greater Ottawa Area seeking fridge repair services, Napoleon Appliances stands out as a reliable and customer-focused choice. Their dedication to technical expertise, customer satisfaction, and environmental responsibility make them a go-to option for any household in need of appliance repairs.
Contact Napoleon Appliances for Your Fridge Repair Needs
If you're interested in learning more about Napoleon Appliances and the comprehensive range of services they offer, you can visit their website at https://napoleonappliances.ca. There, you'll find detailed information about their offerings, service areas, and how to get in touch with their friendly team to schedule a repair or appliance removal service. With Napoleon Appliances, you can rest assured that your home appliances are in the hands of skilled professionals who genuinely care about providing top-notch service to the Ottawa community.
October 14, 2022
Categories: